Den iranske journalisten og menneskrettighetsaktivisten Narges Mohammadi fyller år i fengsel. Skriv til henne!, oppfordrer Asieh Amini.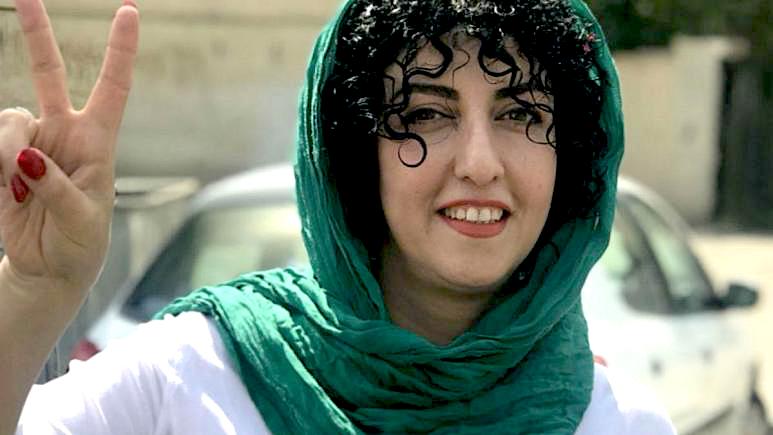 Bla ned på siden for å lese teksten på persisk/Scroll down to read the text in Persian
I dag, 20. april, har Norsk PENs æresmedlem Narges Mohammadi bursdag. Hun fyller 47 år i fengselet i Zanjan i Iran, langt fra barna Kiana og Ali, langt fra mannen, foreldrene, familie og venner som feirer dagen uten henne. Hun sitter alene i fengselet og kan kun fantasere om hvordan bursdagsfeiringen kunne ha vært. Men kanskje hjelper ikke en gang fantasien for å fremskaffe bildene.
Mens koronaviruset herjer er ikke de politiske fangene trygge i fengsel. Den iranske staten slipper ikke ut politiske fanger til hjemmekarantene. Folk dømt for økonomisk korrupsjon og andre kriminelle har blitt innvilget midlertidig løslatelse, men denne muligheten gjelder ikke Narges Mohammadi, Nasrin Sotoudeh og mange andre fanger som er dømt til lange fengselsstraffer kun på grunn av ting de har skrevet, har sagt eller har tenkt. Det er ytringsfriheten som forhindrer Narges fra å se barna sine på bursdagen sin i karantene.
14. april skrev Narges' mor sitt fjerde brev til lederen av Høyesterett i Iran og ba ham hjelpe datteren. Hun skrev at Narges' liv er i fare, akkurat som de andre fangenes liv er i fare. Hun deler celle med kriminelle fanger.
Hun skrev: "Narges forteller at koronaviruset gjør situasjonen mye vanskelige for alle, både fysisk og psykisk. Fangene får ikke møte familiemedlemmer, det er forbudt. Mødre kan ikke treffe barna sine. Fangene har ikke nok mat, frukt og grønnsaker. De har ingen mulighet til å trene aller andre aktiviteter, de har ingen form for underholdning.»
Narges sier: «Siden jeg ble tvangssendt til dette fengselet for tre og en halv måned siden, har jeg vært vitne til mange slagsmål. Men situasjonen nå er forskjellig og verre enn noensinne. For noen dager siden kuttet en fange over blodåren med en kniv rett foran alles øyne. Det var forferdelig! En annen truer meg og andre medfanger med kniv. Alle er veldig sinte og urolige.»
Hva kan vi gjøre? Det samme som når et av våre egne familiemedlemmer er i trøbbel. Skriv for å hjelpe henne! Skriv til den iranske staten og be dem om å la Narges få komme hjem. Skriv i sosiale medier eller der du tror det kan hjelpe, men skriv! Ikke vær taus – Narges trenger å høre «gratulerer med dagen!» , hun som sitter i en mørk, mørk celle i Zanjan.
Av Asieh Amini, styremedlem i Norsk PEN, medlem i Komiteen for Fengslede Forfattere.
Om Narges Mohammadi
Norsk PENs æresmedlem Narges Mohammadi opplevde å bli undertrykket og sensurert for første gang som student. I Iran ble hun utestengt fra å drive med hobbyen fjellklatring, og arrestert for å være med i en reformvennlig valgkampanje. Senere ble alle reformistiske magasiner og aviser hun skrev for stengt av domstolene. Selv om Mohammadi egentlig utdannet seg til å bli fysiker, er hun mest kjent som journalist og menneskerettighetsforkjemper. Mohammadi har blant annet jobbet i Center for Human Rights, grunnlagt av fredsprisvinner Shirin Ebadi. I 2009 fikk Mohammadi forbud mot å engasjere seg for menneskerettigheter – noe hun nektet å gå med på. Siden den gang har hun vært fengslet i flere omganger, og i 2019 var det alvorlig internasjonal bekymring for Mohammadis helsetilstand. Hun ble akutt syk, men fikk ikke nødvendig medisinsk tilsyn og behandling i Evin-fengselet. Norsk PENs Komité for Fengslede Forfattere sendte i 2019 et brev til Irans president og ba om frifinnelse av Mohammadi.