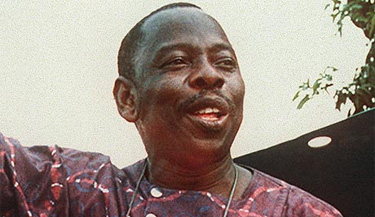 Norske miljø- og menneskerettighetsorganisasjoner har gått sammen om å markere at det er 20 år siden den nigerianske forfatteren og miljøaktivisten Ken Saro-Wiwa og åtte andre Ogoni-aktivister ble hengt en tidlig morgen i Port Harcourt.
Det gjør vi ved å invitere til seminaret
Oil, climate and human rights – the legacy of Ken Saro-Wiwa 
onsdag 11. november kl. 12.00,
i Fafos lokaler, Borggata 2b på Grønland i Oslo.
Klikk på kartet for å se alle transportmuligheter på Fafos side.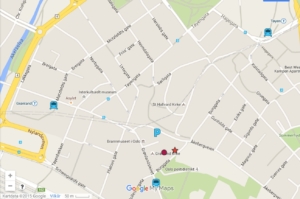 Seminaret er gratis og åpent for alle, men vi ønsker at du melder deg på – det kan du gjøre her.
Norsk PEN arrangerer seminaret i samarbeid med Fafo, Forfatternes klimaaksjon §112, Fellesrådet for Afrika, Bistandstorget, Institutt for internasjonale miljø- og utviklingsstudier (Noragric), ved Norges miljø- og biovitenskapelige universitet (NMBU).
Seminar language is English.
PROGRAM:
11th November 2015,  Fafo, Borggata 2b in Oslo..
12:00 Welcome – Hege Newth Nouri, Secretary General Norwegian PEN
12:10–13:00 SESSION 1: The HISTORY and LEGACY 
Nnimmo Bassey, environmentalist activist, author and poet: The Spirit of Ken Saro Wiwa
Anne Hege Simonsen, social anthropologist, researcher and journalist: The Norwegian story recap
13:00-13:15 COFFEE BREAK
13:15-14:30 SESSION 2: CORPORATE INVOLVEMENT
Chair: Mark Taylor, Research Director, Fafo
Salil Tripathi, Senior Advisor Global Issues, Institute for Human Rights and Business
Heidi Finskas, Vice President Corporate Responsibility, KLP
Beate Sjåfjell, Professor, dr. juris, Head of the Research Group on Companies,Markets, Society and the Environment, UiO, Faculty of Law, Department of Private Law.
14:30-14:45 COFFEE BREAK
14:45-16:15 SESSION 3: PANEL – THE NORWEGIAN LINK: What lessons did Norway learn? What must be done?
Chair:  Maren Sæbø, journalist and editor of the website Bundu
Nnimmo Bassey, environmentalist activist, author and poet
Beate Slydal, political advisor for Amnesty Norway
Camilla Houeland, PhD Fellow in Development studies at Noragric, UMB
16:15: Reading by Nnimmo Bassey: Poem by Bassey and excerpts from Saro-Wiwas's prison letters
16:30: END
Bakgrunn:
10. november er det 20 år siden den den nigerianske forfatteren og miljøaktivisten Ken Saro-Wiwa og åtte andre Ogoni-aktivister ble hengt en tidlig morgen i Port Harcourt. Denne  brutale handlingen fra den nigerianske militærjuntaens side ble den endelige vekker for politikere, miljø- og menneskerettighetsaktivister verden over. Shells oljeutvinning hadde lenge påført Ogoniland alvorlige miljøskader og folket der store helseskader og menneskerettsbrudd. Dette ble stilltiende akseptert av nigerianske myndigheter og de internasjonale oljeselskapene.
Henrettelsene i 1995 stoppet ikke kampen for rettferdighet for natur og folk i Ogoniland. Tvert om. En del av Saro-Wiwas arv er FNs knusende konklusjon i rapporten om miljøskader i Ogoniland  (UNEP Environmental Assessment of Ogoniland, august 2011.) UNEP slo fast at etter 50 år med olje-utslipp og forurensninger, trengte Ogoniland verdens mest omfattende og langvarige opprensning.  Kostnadene for forgiftet land og vann og store helseskader må Nigeria og Shell bære, sa UNEP. Men i august 2014 kunne b.la. AMNESTY International,. Friends of the Earth og Enviromental Rights Action konstatere at ytterst lite har skjedd med UNEPs 27 anbefalte tiltak. Verken i regi av Shell, myndighetene  i Nigeria eller Shells «moderland» Nederland og Storbritannia.
Miljøkatastrofer og klimaendringer er vår tids største utfordringer. I dag, 20 år etter Saro-Wiwas død, vet vi at det meste av verdens fossile ressurser må bli liggende i bakken for klimaets skyld. Og verden over vokser den folkelige motstanden mot kortsynt sjansespill med jordas klima, naturens tålegrense og menneskenes framtid.
Hva er lærdommen fra Ogonilands menneskeskapte tragedie?
Dette er bakgrunnen for seminaret som Norsk PEN arrangerer i samarbeid med Fafo, Forfatternes klimaaksjon §112, Fellesrådet for Afrika, Bistandstorget, Noragric og NMBU (Norges miljø- og biovitenskapelige universitet)