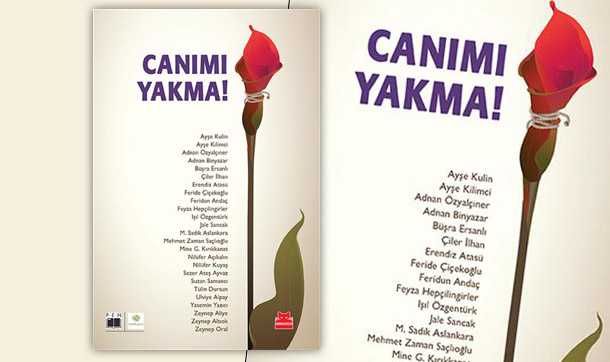 This is a statement from Zeynep Oral, the president of Turkish PEN:
Yesterday was 8th of March – although  the government  has tried to  stop celebrations of 8 March in some Turkish cities;  we, the women of Turkey  have decided to go on with our celebrations and protest marches, everywhere in the country.
We also prepared a book this year to commemorate March 8th. The book, entitled "Don't Hurt Me" , is a compilation of violence against women themed stories by 25 of our members. It  was published under the generous sponsorship of the Norwegian PEN Centre, by Kirmizi Kedi Publishers.  The launch of our book will  take place on  March 11 as well.  And both William Nygaard, president of Norwegian PEN and John  Ralston Saul, former President of PEN International, will attend the ceremony .
Every year  PEN Turkey presents the Duygu Asena Award annually on  8th of March. (Duygu Asena was  a feminizt and very popular writer and journalist who died  when she was 60, ten years ago) . Since then we   give an award  in her name  to those individuals and / or associations who have contributed to women's causes, research, and fight for recognition, equality and freedom.
This year we are giving the award  to the  Women's Library ıof İstanbul.
25 years ago, the Library of Women's Works & lnformation  Center of İstanbul  embarked on a journey of imparting information under the motto "no documentation no history". Our past is made of men and women, but history was written only by men, thus only their sories took place in the history, as if women did not exist..  WL  created a miracle in these last 25 years. This action comprises not only of the library with its vast archives  &. collections but also activities such as research, symposia, panel discussions, verbal history projects  both on national & international levels  in order to provide a source of interest & flow of information to women from every generation . The Trust thus set a precedent to inspire future generations.
The Awards ceremony will take place on Friday March 11 at 19.00 on the premises of the French Cultural centre.
Zeynep Oral, president of PEN Turkey