Manglende rettssikkerhet, vilkårlig forfølgelse av journalister og et politisk styrt rettsapparat er noen av funnene i en ny rapport Norsk PEN har bidratt til.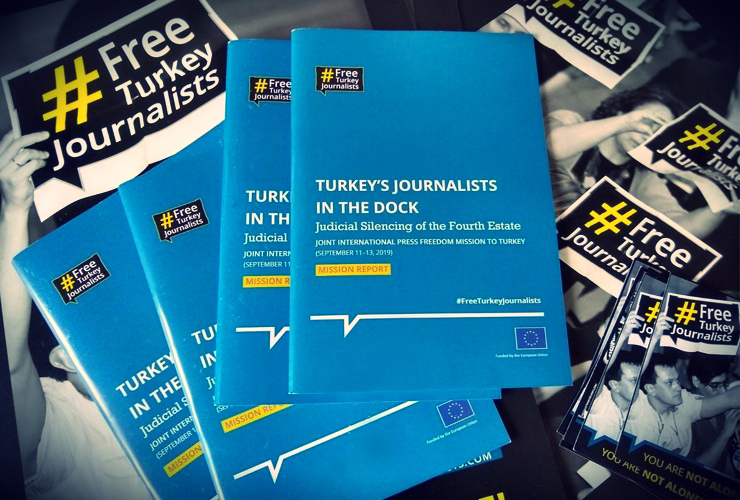 Norsk PEN deltok i september sammen med syv andre presse- og ytringsfrihetsorganisasjoner i en delegasjonsreise til Tyrkia. Resultatet av delegasjonens undersøkelser er nå utgitt i rapporten «Turkey's Journalists in the Dock. Judicial Silencing of the Fourth Estate».
Delegasjonen har undersøkt den kritiske situasjoen for pressefriheten i Tyrkia etter kuppforsøket i 2016. Over 120 journalister sitter i fengsel, og flere hundre står tiltalt for terrorisme.
– Mens vi var i Tyrkia, ble seks journalister i Cumhuriyet-saken løslatt. Dessverre var dette et unntak. De fleste av våre samtaler og diskusjoner viste at det fortsatt ikke finnes reell vilje til å endre eller reformere dagens praksis, sier Caroline Stockford, Norsk PENs Tyrkia-rådgiver som deltok i delegasjonen.
Nedslående funn
Funnene til delegasjonen er nedslående. Selv om unntakstilstanden i landet lettet sommeren 2018, har ikke pressens vilkår blitt bedre.
Tvert imot: En lang rekke journalister sitter fortsatt fengslet eller er ilagt reiseforbud som ofre for en utvidet, politisk motivert kampanje rettet mot mediene.
– Det er ingen juridisk uavhengighet i Tyrkia, og vi ser fortsatt at rettsvesenet presses kraftig fra politisk hold, sier Stockford.
«Svært alarmert»
Rapporten kommer også med kritikk mot at rettsvesenet er systematisk bygd ned de seneste årene, blant annet gjennom å avsette en tredjedel av landets dommere. Flere har selv blitt fengslet, og erstattet av nylig uteksaminerte jurister.
Delegasjonen er også svært kritiske til at Tyrkias grunnlovsdomstol har vært inkonsekvent i saker som angår ytringsfriheten. Denne retten er nedfelt i landets grunnlov, men respekteres ikke.
I tillegg er de «svært alarmert» av at lisensorganet Radio and Television High Council (RTÜK) har fått utvidede myndigheter til også å gjelde internettpublikasjoner. Dette gjør det ennå vanskeligere for uavhengige nyhetsnettsteder å overleve.
Anbefalinger fra delegasjonen
Rapporten inneholder en rekke anbefalinger til tyrkiske myndigheter.
Først og fremst: Umiddelbart stanse deb vilkårlige forfølgelsen av journalister. I rettsvesenet må politisk motiverte domsavsigelser opphøre, og enhver tiltalt må få en rettferdig rettssak.
Delegasjonen ber også Tyrkia umiddelbart om å revidere sin anti-terror- og ærekrenkelseslovning, da denne i dag til stadighet benyttes for å stilne legitim kritikk i pressen.
Lagt fram i Brüssel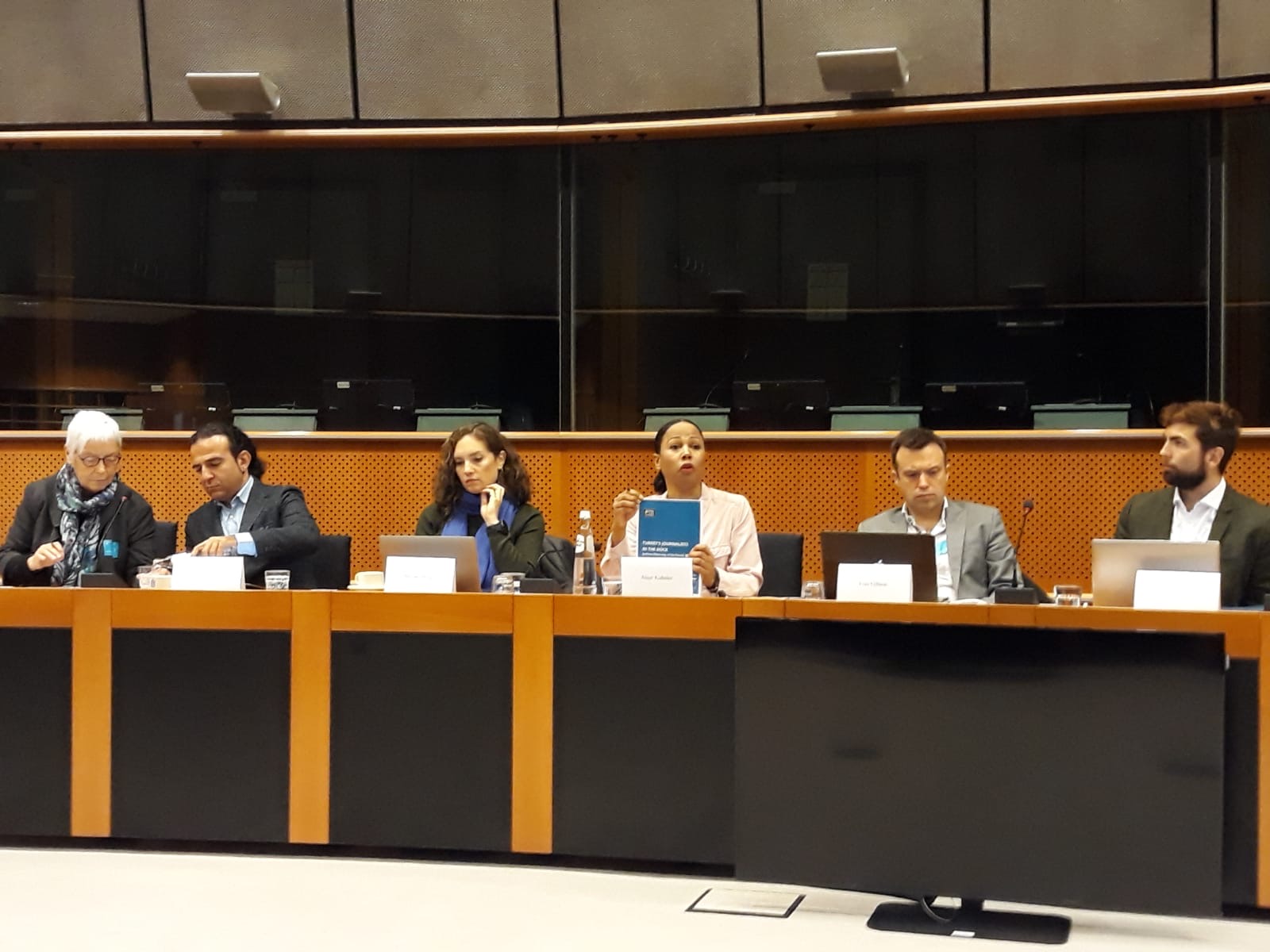 Rapporten ble lagt fram i Brüssel i forrige uke, der Tyrkia-rådgiver Caroline Stockford fra Norsk PEN deltok.
Delegasjonen bak rapporten fortalte om funnene til medlemmer av Europaparlamentet og dets Tyrkia-rapportør. Målet med besøket var også å presse på for løslatelse og frifinnelse av filantropen Osman Kavala, forfatteren Ahmet Altan og de andre som sitter fengslet i Tyrkia for å ha uttrykt regimekritiske meninger og ellers brukt sin konstitusjonelle rett til ytringsfrihet.
– Norsk PEN fortsetter å jobbe for fengslede skribenter og journalister i Tyrkia, og å støtte ytringsfrihet for alle i landet, var Stockfords budskap i Europaparlamentet.
Om rapporten
Organisasjonene som har samarbeidet om rapporten er Norsk PEN, PEN International, International Press Institute, ARTICLE 19, The Committee to Protect Journalists (CPJ), European Centre for Press and Media Freedom (ECPMF), European Federation of Journalists (EFJ) og Reporters without Borders (RSF).
I løpet av sin tre-dagersreise i september møtte delegasjonen tyrkiske presse- og ytringsfrihetsorganisasjoner til en rundebordssamtale, Justisdepartementet, EUs delegasjon til Tyrkia og The Supreme Court of Cassation, Tyrkias øverste ankedomstol.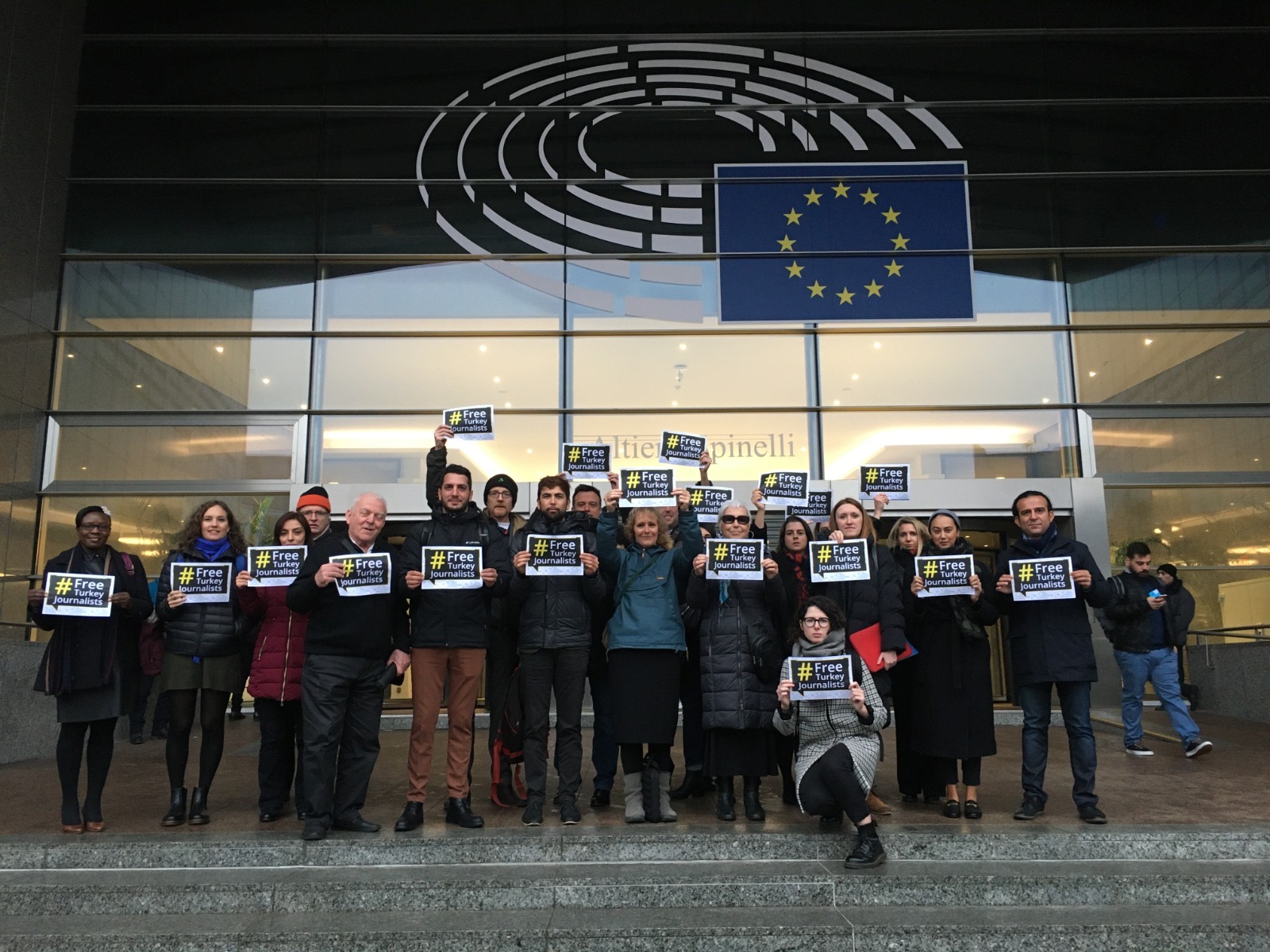 Further questions about Norwegian PEN's work on the report can be sent to our Turkey advisor, Caroline Stockford, on caroline@norskpen.no.