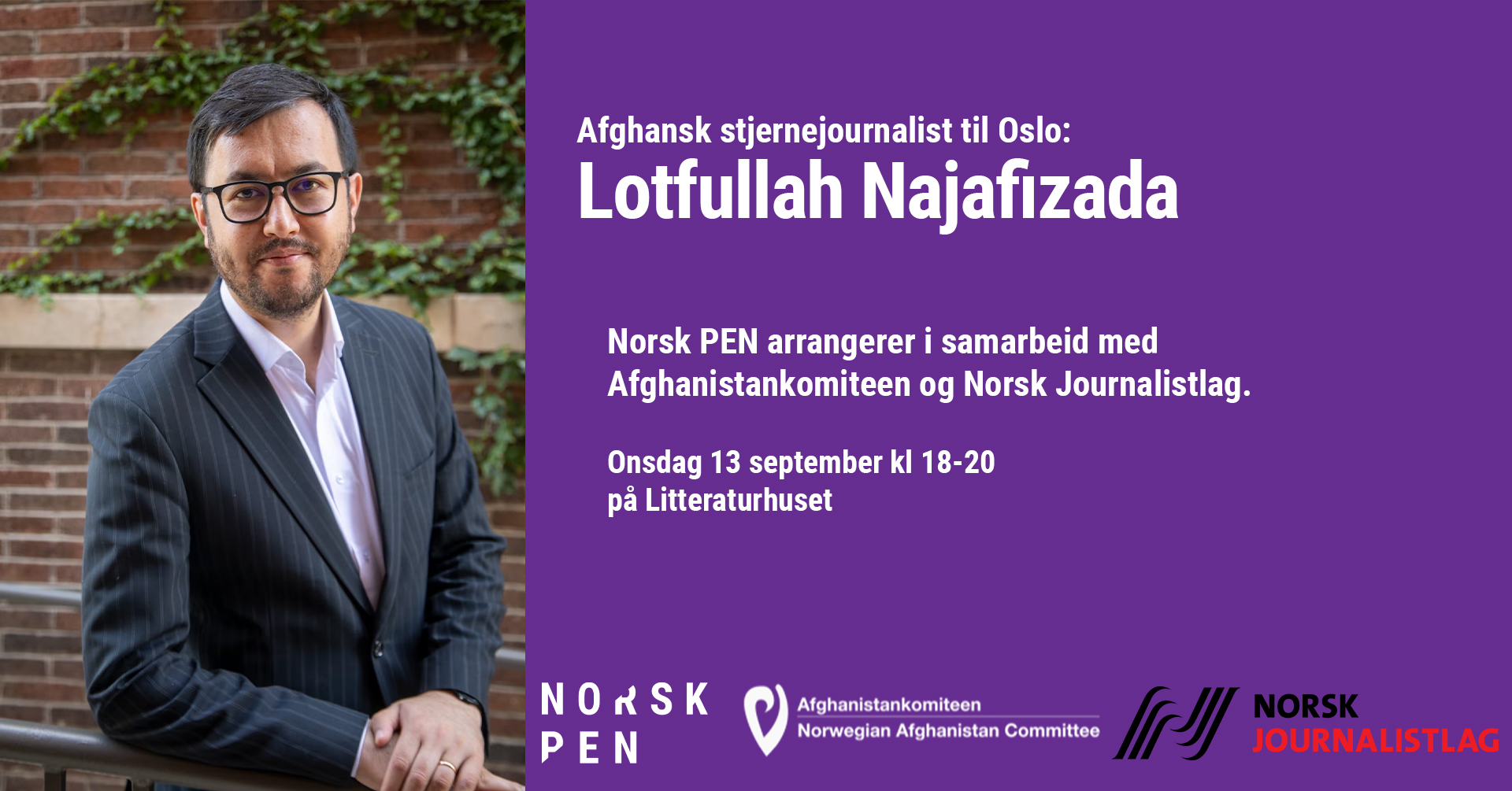 Afghansk stjernejournalist til Oslo
Tid: 13. september, kl. 18:00
Sted: Nedjma, Litteraturhuset, 3. etasje.
Finnes det rester av pressefrihet i Afghanistan? Hva slags vilkår har journalister som ennå befinner seg i landet? Hvilken betydning har afghanske medier ledet fra eksil?
Den 13. september innleder en av Afghanistans mest kjente journalister, Lotfullah Najafizada, om pressefrihet og mediesituasjonen i dagens Afghanistan. Najafizada ledet den mest populære afghanske mediekanalen ToloNews fra 2009 til 2021. I dag arbeider han fra eksil i Amu TV, som han grunnla med kolleger etter at Taliban tok makten i august 2021. Han har mottatt en rekke viktige priser, blant dem Reportere uten grensers pressefrihetsmedalje i 2016. Som eneste afghanske journalist deltok han under forhandlingene med Taliban i Doha 2019 og i Oslo 2022.
Etter innledningen er det satt av tid til spørsmål og debatt. Språk: engelsk.
Norsk PEN arrangerer i samarbeid med Afghanistankomiteen (NAC) og Norsk Journalistlag Oslo (NJ Oslo).
_________________________________
Leading Afghan journalist visits Oslo
Does any kind of press freedom remain in Afghanistan? How do Afghan journalists still working on the ground, work and survive? What impact can Afghan media led from exile have on the current situation?
On 13 September, one of Afghanistan's leading journalists, Lotfullah Najafizada, will visit Oslo to speak about the media situation in today's Afghanistan. Najafizada was the Director of Afghanistan´s most popular media institution, ToloNews, from 2009 to 2021. After the Taliban takeover in August 2021, he founded Amu TV in exile with colleagues. He has received a number of awards, including the Press Freedom Hero Medal from Reporters Without Borders in 2016. He was the only Afghan journalist present during talks with the Taliban both in Doha, 2019 and in Oslo, 2022.
After Najafizada's introduction, there will be Q&As.
Location: Nedjma, Litteraturhuset, Oslo, 3rd floor, from 6 to 8pm