At the forefront of the fight for freedom of the press in Russia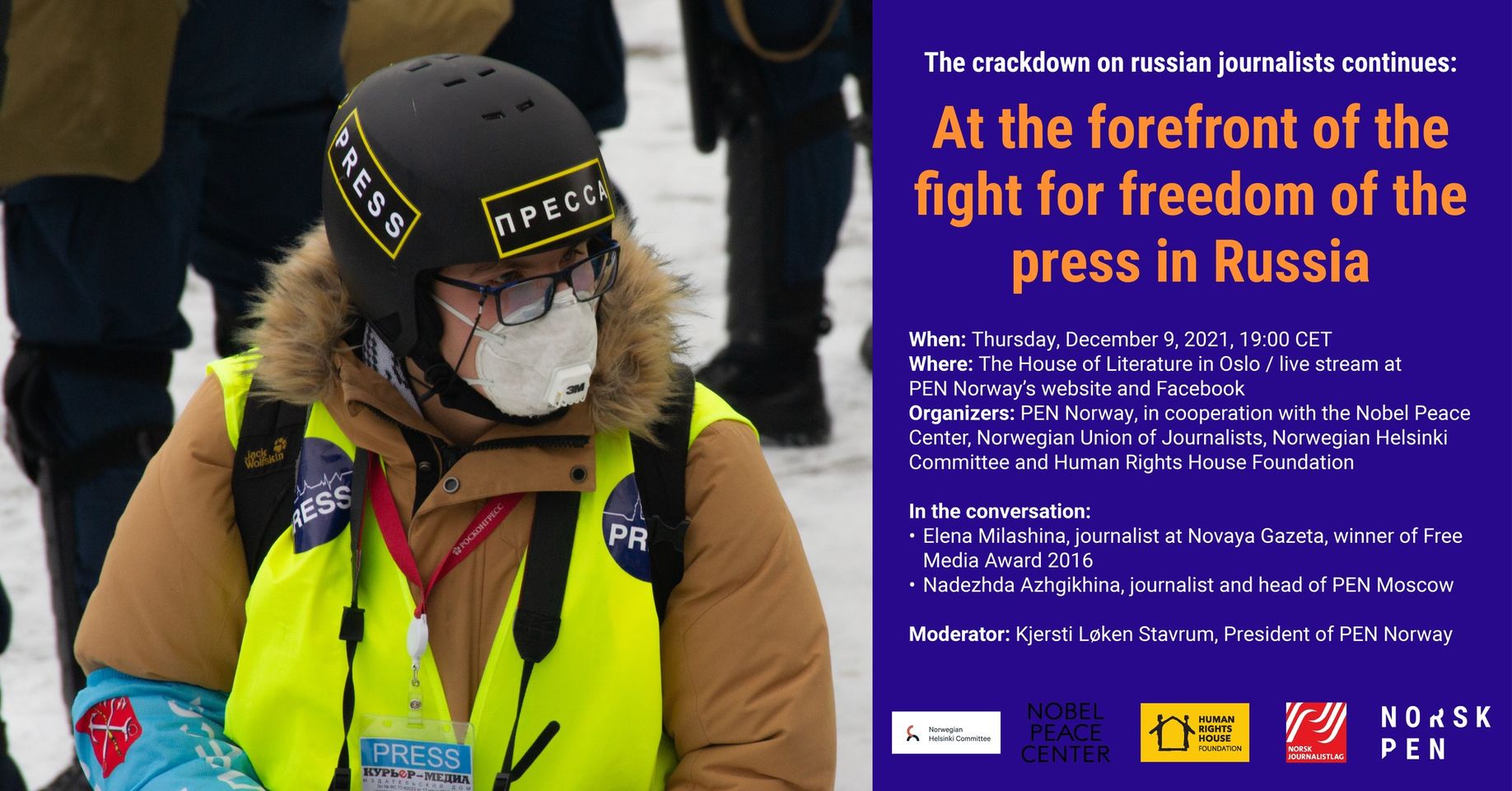 Time: Thursday, December 9, 2021, at 19:00 CET
Location: House of Literature in Oslo
Organizers: PEN Norway, in cooperation with the Nobel Peace Center, the Norwegian Union of Journalists, the Helsinki Committee and the Human Rights House Foundation. The event is part of Oslo Peace Days.
The event will be sent live here.
Since the major protests against the Russian government in 2011 and 2012, the crackdown on independent media and journalists has augmented. Draconian laws have been passed, websites and social media platforms have been blocked, and independent media houses have been shut down. The law on foreign agents is increasingly being used against media actors, journalists and bloggers. Following the arrest of Kremlin opponent Alexey Navalny, freedom of the press has been further constrained. Besides Novaya Gazeta, there are few independent newspapers left in the country that operates without being accused of being a foreign agent.
Journalists and bloggers are persecuted, fined and imprisoned for their work. Many attacks, and even murder, on journalists are neither investigated nor tried in court. From 1992 to 2020, at least 82 Russian journalists were killed.
Despite the imminent danger, courageous Russian journalists continue to secure access to reliable information and promote freedom of expression, such as this year's Nobel Peace Prize winner Dmitry Muratov.
PEN Norway, in cooperation with the Nobel Peace Center, Norwegian Union of Journalists, Norwegian Helsinki Committee and Human Rights House Foundation, welcomes you to a conversation about the situation of freedom of the press and journalists in Russia on Thursday, 9 December.
PROGRAMME
In the conversation:
– Elena Milashina, journalist at Novaya Gazeta, winner of Free Media Award 2016 (Fritt Ord)
– Nadezhda Azhgikhina, journalist and head of PEN Moscow
Moderator: Kjersti Løken Stavrum, President of PEN Norway
The event will be in English. It will be live streamed on PEN Norway's website and Facebook.