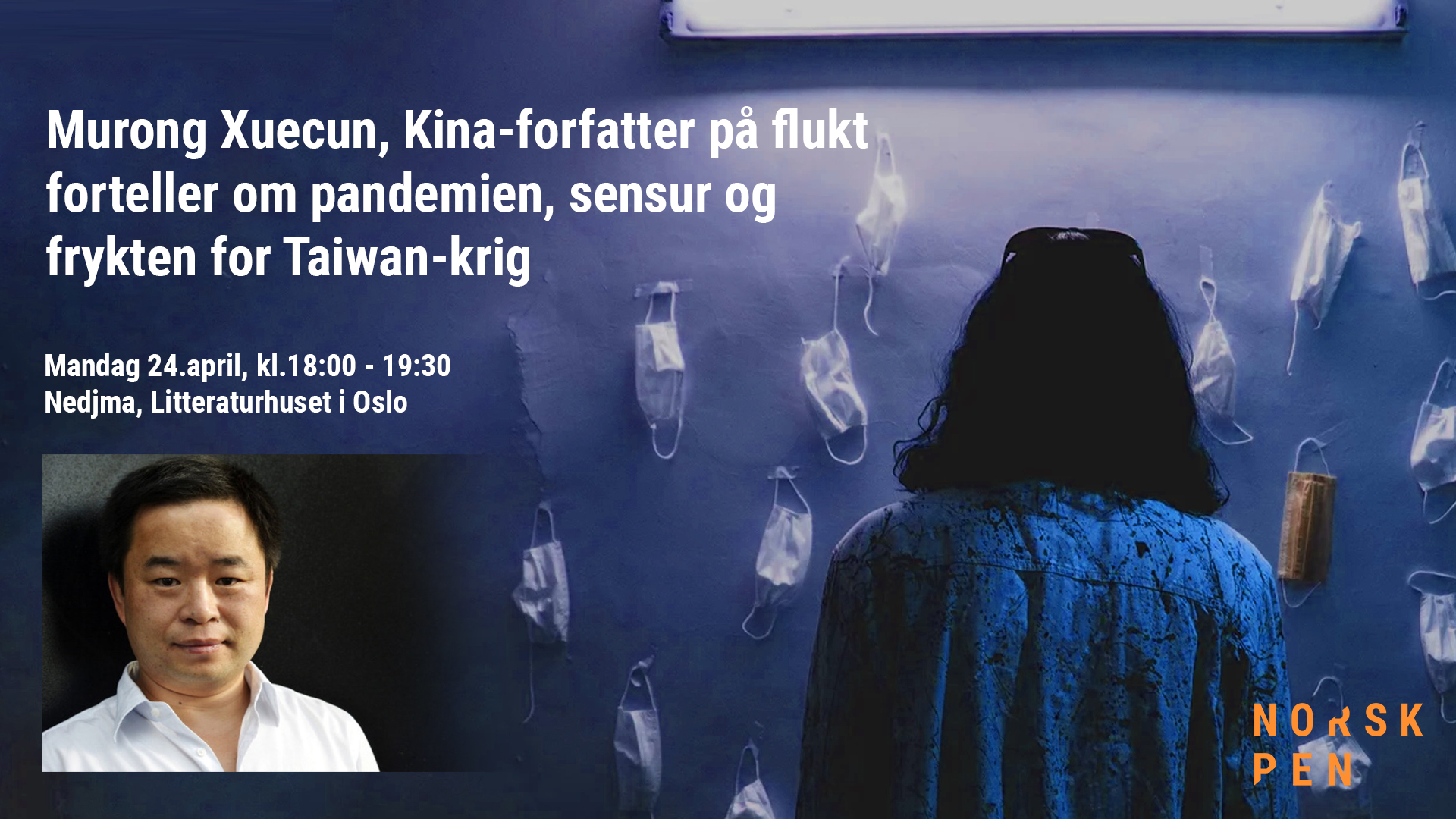 Murong Xuecun, Kina-forfatter på flukt forteller om pandemien, sensur og frykten for Taiwan-krig
Kina-utvalget i Norsk PEN er stolte av å kunne invitere til foredrag og samtale med en av Kinas fremste forfattere og samfunnsdebattanter, Murong Xuecun (48). Murong Xuecun vil snakke om boken som gjorde at han måtte flykte fra Kina i 2021: «Deadly Quiet City» – om Wuhan og spredningen av Covid 19-utbruddet. Han vil også fortelle om frykten for krig på Taiwan.
Murong Xuecun har siden tidlig på 2000-tallet vært regnet som en svært viktig stemme på den litterære arenaen i Kina; en liberal stemme som fikk operere relativt fritt i årene før Xi Jinping kom til makten. Kontoen hans på den kinesiske twitter-liknende plattformen Weibo hadde flere millioner følgere før den ble forbudt i 2013. Han har vært fast spaltist i The New York Times, og har også skrevet for The Guardian og Foreign Policy.
Nå kommer Murong Xuecun på besøk til Norge. Han skal blant annet besøke Norsk PEN og snakke om sin nye bok «Deadly Quiet City». Boka er den direkte årsaken til at Murong Xuecun måtte forlate Kina våren 2021. Den stille byen han skriver om er Wuhan, selve episenteret for Covid 19- utbruddet i 2020. Byen med sine 11 millioner innbyggere var totalt nedstengt i 76 dager fra 23 januar det året. Ingen troverdig informasjon fikk slippe ut derfra. Murong Xuecun tok seg til Wuhan i april det året og begynte å intervjue folk i det skjulte. Manuskriptene ble smuglet ut via hemmelige epost-kontoer. Arbeidet i byen var ekstremt risikabelt, over alt rundt ham ble kilder og informanter arrestert. Overvåkingen var total. Bare én versjon av virushistorien fra Wuhan skulle slippes ut til omverdenen; myndighetenes sterkt sensurerte og friserte versjon.
Da nettet begynte å snøre seg rundt Murong Xuecun, forlot han Wuhan i mai 2020 og dro til et hemmelig sted i Sichuan-provinsen for å fullføre boka. Det tok ham ti måneder før hans australske forlegger rådet han til å forlate Kina øyeblikkelig. Nå lever Murong Xuecun i påtvunget eksil i Australia.
Vi håper du blir med på samtalen!
Mandag 24.april, kl.18.00 – 19.30
Nedjma, Litteraturhuset i Oslo
Her kan du se opptaket: