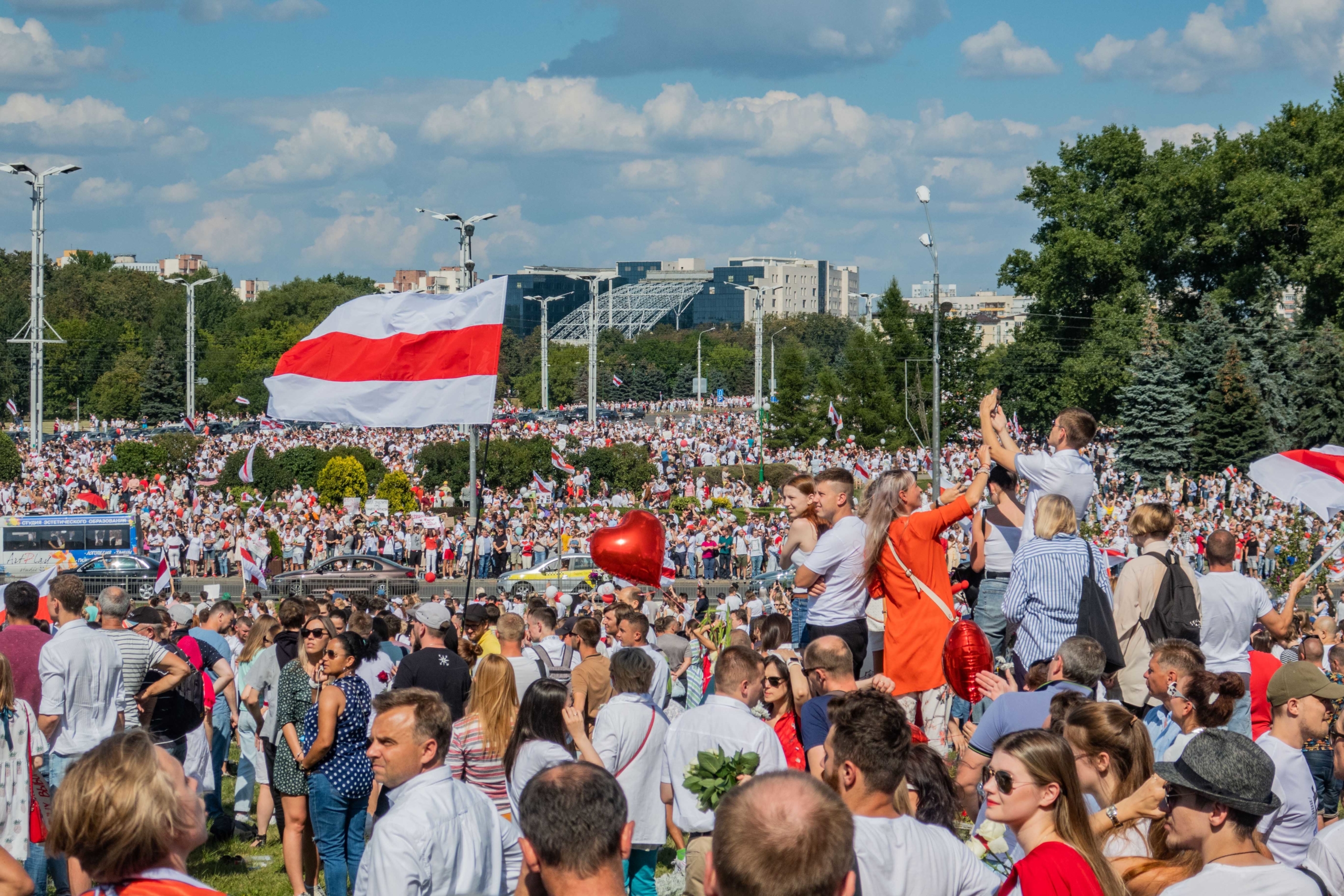 What is the situation for freedom of expression in Belarus?
Three human rights defenders (HRDs) from Belarus are coming to Oslo to talk about the current situation for human rights and freedom of expression in the country, and how the international community can support civil society organisations and HRDs in their fight for democracy and human rights. This event is organized by the PEN Norway's Committee for Imprisoned Writers.
Norwegian text below
Join us on Wednesday, November 1st at 7:00 PM at the House of Literature in Oslo, 3rd floor, Nedjma.
PROGRAM:
Welcome by Dag Larsen, Chair of PEN Norway's Committee for Imprisoned Writers
Poetry reading by Dmitrij Strotsev, the recipient of the Norwegian Authors' Union Freedom of Expression Award in 2021
Speakers:
– Jørgen Watne Frydnes, Secretary-General of PEN Norway
– Taciana Niadbaj, President of PEN Belarus
Panel discussion:
– Iryna Kozika, Executive Director of PEN Belarus and sister of the imprisoned lawyer Maksim Znak
– Aliaksandra Safonava, Project Manager for Belarus in the Norwegian Helsinki Committee
– Taciana Niadbaj, President of PEN Belarus
– Jørgen Watne Frydnes will moderate the conversation
At the end of the panel discussion, we open the floor to questions from the audience.
Background information about the event/topic:
In 2022, Ales Bialiatski, a Belarusian author and human rights advocate, was honored with the Nobel Peace Prize. Tragically, shortly thereafter, he was sentenced to an additional 10 years in prison. This highlights the urgent need for PEN Belarus's ongoing efforts to shed light on the injustices in Belarus.
The grim reality within Belarusian prisons and detention centers is harrowing: frigid and drafty cells with stark concrete walls and floors, a lack of mattresses and basic clothing, and unrelenting lighting. Inadequate food, medical care, solitary confinement, and isolation from the outside world are the daily tribulations endured by countless opposition figures in Belarus today.
According to the human rights organization Viasna, there are more than 1,500 political prisoners, and more than 3,000 individuals are convicted for being opposition to President Alexander Lukashenko's authoritarian regime. In 2022, 1,390 human rights violations against cultural workers in Belarus were documented, and this number continues to rise. Many face arbitrary arrests, are denied fair trials, and have limited access to legal representation. A recent report characterizes the sheer volume of trials, detentions, and abuses as an assembly line of injustice.
The regime actively suppresses the use of the country's native language. The Russification of cultural life is on the rise, and there is an escalating persecution of cultural workers. The pursuit of free expression is perilous, forcing many to leave the country.
PEN Norway supports human rights defender, writers, journalists, artists, and other cultural figures in Belarus, in cooperation with PEN Belarus. PEN Belarus works from exile in Poland, after the authorities closed the organization in 2021.
________________
VELKOMMEN TIL EN KVELD MED STEMMER FRA BELARUS!
Tre menneskerettighetsforkjemperne fra Belarus kommer til Oslo for å snakke om den nåværende situasjonen for menneskerettigheter og ytringsfrihet i landet, og hvordan verdenssamfunnet kan støtte sivilsamfunnet og frie ytrere i deres kamp for demokrati og menneskerettigheter. Arrangementet er initiert av Norsk PENs komité for fengslede forfattere.
Når: Onsdag 1. november kl. 19:00
Sted: Litteraturhuset i Oslo, 3.etg Nedjma.
Program:
Dag Larsen, leder for komité for fengslede forfattere ønsker velkommen.
Dmitrij Strotsev, mottaker av Den norske Forfatterforenings ytringsfrihetspris i 2021, innleder og avslutter arrangementet med opplesning fra egen egen bok.
Innlegg:
• Jørgen Watne Frydnes, generalsekretær i Norsk PEN
• Taciana Niadbaj, leder i PEN Belarus og forfatter
Panelsamtale:
• Iryna Kozika, daglig leder i PEN Belarus og søster til den fengslede advokaten Maksim Znak
• Taciana Niadbaj, styreleder i PEN Belarus og forfatter
• Aliaksandra Safonava, prosjektleder for Belarus i Den norske Helsingforskomiteen
• Jørgen Watne Frydnes, generalsekretær i Norsk PEN (moderator)
Vi vil avslutte samtalen med å åpne opp for spørsmål fra salen.
Bakgrunnen for arrangementet:
I 2022 fikk den belarusiske forfatteren og menneskerettighetsforkjemperen Ales Bialiatski Nobels fredpris. Like etterpå ble han fengslet for nye 10 år. PEN Belarus arbeider for å gjøre verden oppmerksom på overgrepene i landet, som for mange her i Norge er mindre kjent.
Iskalde, trekkfulle fengselsceller med vegger og gulv i betong. Ingen madrass, ingen klær, lyset på hele døgnet. Dårlig mat, ingen medisiner, ingen vinduer, ingen kontakt med omverdenen. Dette er forholdene for mange opposisjonelle i belarusiske fengsler og fangeleire i dag.
Ifølge menneskerettighetsorganisasjonen Viasna har Belarus over 1500 politiske fanger, og over 3000 mennesker er dømt for politisk motstand mot president Aleksandr Lukasjenkos autoritære regime. Bare i 2022 ble det registrert 1390 rettighetsbrudd mot kulturarbeidere i Belarus, og tallet øker. Mange opplever vilkårlige arrestasjoner, blir nektet rettferdig rettsak og tilgang til advokat. En nylig publisert rapport beskriver mengden rettsaker, fengslinger og overgrep som et samlebånd.
I Belarus bekjemper regimet landets eget språk. Russifiseringen av kulturlivet øker i styrke, og det pågår en stadig sterkere forfølgelse av kulturarbeidere. Frie ytrere lever farlig og mange har valgt eksil.
Norsk PEN overvåker menneskerettighetsbrudd mot forfattere, journalister, kunstnere og andre frie ytrere som fremmer menneskerettigheter i Belarus, i samarbeid med PEN Belarus. PEN Belarus arbeider fra eksil i Polen, etter at myndighetene i Belarus stengte ned organisasjonen i 2021.