11 November: Oil, climate and human rights – The Legacy of Ken Saro Wiwa
Norske miljø- og menneskerettighetsorganisasjoner har gått sammen om å markere at det er 20 år siden den nigerianske forfatteren og miljøaktivisten Ken Saro-Wiwa og åtte andre Ogoni-aktivister ble hengt en tidlig morgen i Port Harcourt.
Det gjør vi ved å invitere til seminaret
Oil, climate and human rights – the legacy of Ken Saro-Wiwa 
onsdag 11. november kl. 12.00,
i Fafos lokaler, Borggata 2b på Grønland i Oslo.
Klikk på kartet for å se alle transportmuligheter på Fafos side.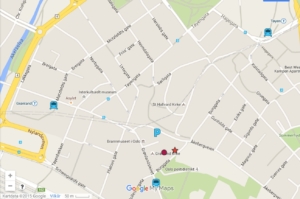 Seminaret er gratis og åpent for alle, men vi ønsker at du melder deg på – det kan du gjøre her.
Norsk PEN arrangerer seminaret i samarbeid med Fafo, Forfatternes klimaaksjon §112, Fellesrådet for Afrika, Bistandstorget, Institutt for internasjonale miljø- og utviklingsstudier (Noragric), ved Norges miljø- og biovitenskapelige universitet (NMBU).
Seminar language is English.