Melding fra Svetlana Aleksievitsj
Maskerte menn forsøkte onsdag 9. september å komme seg inn i leiligheten til Svetlana Aleksievitsj. I går ble tre medlemmer av Hviterussisk PEN anholdt.
9. september 2020
Vi står sammen med kolleger i Hviterussland, og er dypt bekymret over utviklingen.
I går ble tre medlemmer av Hviterussisk PEN anholdt. Blant dem var sekretæren i Hviterussisk PEN, Hanna Komar.
I dag morges forsøkte maskerte menn å ta seg inn i leiligheten til Svetlana Aleksievitsj, leder av Hviterussisk PEN og nobelprisvinner. Hun mobiliserte raskt, og mange aktivister kom til leiligheten hennes for å følge med. I tillegg samlet et stort antall journalister seg, samt en rekke diplomater fra flere europeiske land, deriblant Sverige.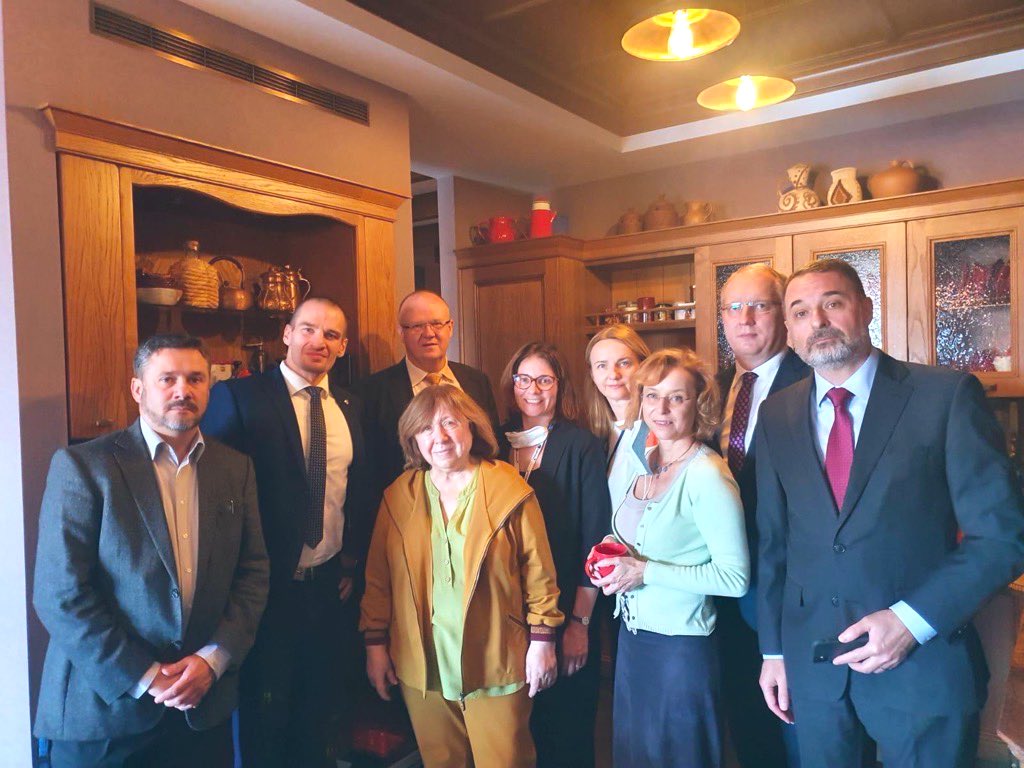 Da alt startet i dag, skrev Svetlana Aleksievitsj en tekst som ble delt av Hviterussisk PEN. Vi viderebringer en engelsk oversettelse, med originalspråket under.
Here again, someone unknown is ringing the doorbell …
There is no one left of my friends and associates in the opposition's Coordination Council. They are all in prison, or they have been thrown out of the country. The last, Maksim Znak, was taken today.
First they seized our country, and now they are seizing the best of us. But hundreds of others will come and fill the places of those who have been taken from our ranks. It is the whole country which has risen up, not just the Coordination Council. I want to say again what I have always said: that we were not attempting to start a coup. We did not want to split the country. We wanted to start a dialogue in society. Lukashenko has said he won't speak 'with the street' – but the streets are filled with hundreds of thousands of people who come out to protest every Sunday, and every day. It isn't the street, it is the nation.
People are coming out to protest with their small children because they believe they will win.
I also want to address the Russian intelligentsia, to call it by its old name. Why have you remained silent? We hear very few voices supporting us. Why don't you speak when you can see this proud little nation is being crushed? We are still your brothers.
To my own people, I want to say this: I love you and I am proud of you.
And now there is another unknown person ringing at my door.
Translated by Sasha Dugdale, English PEN.
Russisk:
Уже не осталось никого из моих друзей-единомышленников в Президиуме Координационного Совета. Все или в тюрьме, или выброшены за границу. Сегодня взяли, последним, Максима Знака.
Сначала у нас похитили страну, похищают лучших из нас.  Но вместо вырванных из наших рядов придут сотни других. Восстал не Координационный комитет. Восстала страна. Я хочу повторить то, что говорю всегда. Мы не готовили переворот. Мы хотели не допустить раскола в нашей стране. Мы хотели, чтобы в обществе начался диалог. Лукашенко говорит, что не будет говорить с улицей, а улица – это сотни тысяч людей, которые каждое воскресенье и каждый день выходят на улицу. Это не улица. Это народ.
Люди выходят на улицу со своими маленькими детьми, потому что они верят, что они победят.
Еще я хочу обратиться к русской интеллигенции, назовем это так по-старому обычаю. Почему вы молчите? Мы слышим только редкие голоса в поддержку. Почему вы молчите, когда видите, как растаптывают маленький, гордый народ? Мы все еще ваши братья.
А своему народу я хочу сказать, что я люблю его. Я горжусь им.
Вот опять кто-то неизвестный звонит в дверь…