Monitoring

Gezi
Read our full five-year report here:
PEN_Norway_Monitoring_Gezi_eng_web

Interviews with each imprisoned defendant, articles, indictment reports and an overview of PEN Norway's monitoring of the five-year Gezi Park trial that was aimed at criminalising and jailing defenders of freedom and democracy in Turkey.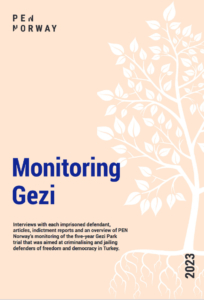 As part of the Turkey Indictment Project, PEN Norway published two indictment reports relating to the Gezi Park trial defendants. These were an analysis of the indictment in the main Gezi Park case and an analysis of the subsequent indictment regarding bogus espionage charges in relation to Osman Kavala and Jak Barkey. Both reports are included here.
This booklet on PEN Norway's observations of and advocacy for the defendants in the Gezi case includes articles on the monitoring process, the importance of the Gezi uprising to the people of Turkey, the government's brutal pushback on rights and freedoms in the wake of the 2013 protests and also our hearing reports, statements and open letters.
Following the shocking sentencing and immediate arrest on April 25, 2022 of all present Gezi defendants, we continued our solidarity and support of these innocent human rights advocates by interviewing them all, in turn, in prison. Their interviews can be found towards the end of the booklet and are a testament to personal strength, convictions and their unshakeable belief in democracy and a fair, open society where all views are respected and in which the organs of state function correctly.
Early in 2023 PEN Norway will hold a launch event for this five-year study of the Gezi Park trial.
https://norskpen.no/eng/wp-content/uploads/2022/01/Pen-Norway_logo_rgb-2.png
0
0
Caroline Stockford
https://norskpen.no/eng/wp-content/uploads/2022/01/Pen-Norway_logo_rgb-2.png
Caroline Stockford
2022-12-30 13:13:45
2022-12-30 13:35:55
Monitoring Gezi – PEN Norway's Five Year Report