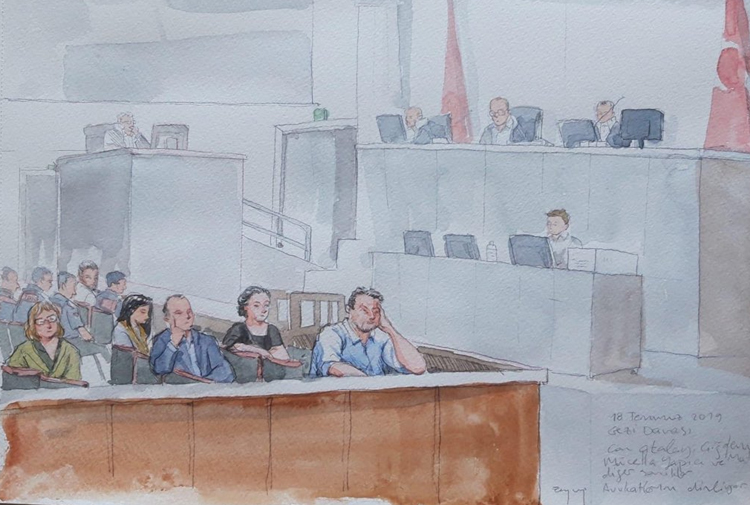 "To be a decent person in a just world is a fine achievement – but what is more critical is how to stay decent in an unjust world"
PEN Norway followed all the hearings of the Gezi trial, in which 16 defendants, including Hakan Altınay were tried for "seeking to overthrow the government by force and violence".
On April 25, 2022, Hakan Altınay and the other defendants present at the hearing were sentenced to 18 years imprisonment and arrested in the courtroom. Already under pre-trial detention, Osman Kavala was sentenced to aggravated life imprisonment. PEN Norway was a first- hand witness to this shocking abuse of the judicial system and is currently conducting a series of interviews with each imprisoned Gezi defendant.
Read our interview with Hakan Altınay here:
Pen interview Hakan Altinay_eng
PEN Norveç, Hakan Altınay'ın da aralarında bulunduğu 16 sanığın
"cebir ve şiddet kullanarak hükümeti ortadan kaldırmaya teşebbüs"
suçlamasıyla yargılandığı Gezi davasının tüm duruşmalarını takip etti.

25 Nisan 2022'de Hakan Altınay ve duruşmada hazır bulunan diğer
sanıklar 18 yıl hapis cezasına çarptırıldı ve mahkeme salonunda
tutuklandılar. Halihazırda tutuklu yargılanan Osman Kavala ise
ağırlaştırılmış müebbet hapis cezasına çarptırıldı. PEN Norveç, yargı
sisteminin bu şok edici suiistimaline ilk elden tanıklık etti ve şu anda
tutuklu Gezi sanıklarının her biriyle bir dizi söyleşi gerçekleştiriyor.
Image: Zeynep Özatalay
https://norskpen.no/eng/wp-content/uploads/2022/09/gezi-davasi.jpg
505
750
Caroline Stockford
https://norskpen.no/eng/wp-content/uploads/2022/01/Pen-Norway_logo_rgb-2.png
Caroline Stockford
2022-09-15 15:56:26
2022-09-22 11:28:52
PEN Norway interview with Gezi defendant Hakan Altınay