I subscribe – støtt kampanjen for den frie presse i Tyrkia
Jeg abonnerer – for å støtte uavhengig journalistikk /
I subscribe – to support independent journalism
Lansering av en internasjonal abonnementskampanje på Cumhuriyet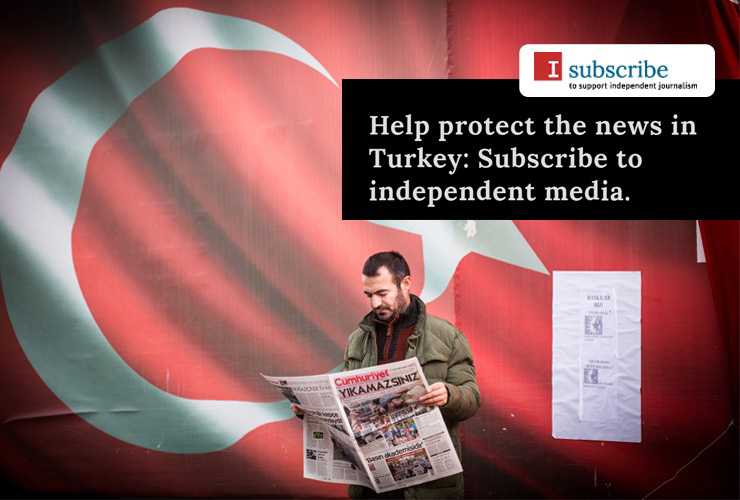 I dag lanserer Norsk PEN sammen med en sammenslutning av ytringsfrihetsorganisasjoner ledet av International Press Institute (IPI), kampanjen «I subscribe» – til støtte for uavhengig journalistikk i Tyrkia.
Kampanjen oppfordrer lesere over hele verden til å tegne abonnement på Tyrkias få gjenværende uavhengige aviser, som en solidarisk støtteerklæring.
Cumhuriyet er den første avisen som støttes gjennom «I subscribe».
– I engelsk nettutgave vil Cumhuriyet bli en modig og åpen internasjonal stemme om et tyrkisk rettssamfunn i forfall, sier William Nygaard, leder av Norsk PEN. – Vi støtter den frie journalistikken i Tyrkia, og kampanjen «I subscribe» fremmer det.
Uavhengig journalistikk i Tyrkia er under sterkt press. Anslagsvis 90 % av landets medier er underlagt statlig kontroll og mer enn 180 aviser har blitt stengt siden kuppforsøket i juli 2016. Per 1. juni 2018, er 153 journalister i fengsel i Tyrkia og hundrevis av andre venter på rettssaker.
Cumhuriyet ble grunnlagt i 1924 og er en av Tyrkias eldste aviser. Den tyrkiske staten har utpekt Cumhuriyet som hovedmål og utsetter avisa for stadig nye undertrykkelser. I april ble 14 av avisas journalister og medarbeiderne – inkludert redaktøren og administrerende direktør – dømt til fengsel på grunnløse terroranklager. Cumhuriyet har over lang tid blitt utsatt for et så kvelende rettslig og økonomisk press, at avisa nå befinner seg i en svært vanskelig finansiell situasjon.
Norsk PEN håper du vil hjelpe. Støtt den frie, kritiske journalistikken i Tyrkia, støtt de forfulgte journalistene og mediearbeiderne – tegn et solidarisk abonnement.
Les mer om situasjonen for den frie presse i Tyrkia her.
Nærmere informasjon:
William Nygaard, leder i Norsk PEN, tlf: 908 92 601
Hege Newth, generalsekretær i Norsk PEN  tlf.: 930 02 262
#isubscribe
Pressemeldingen fra IPI og sammenslutningen av organisasjoner:
I Subscribe – to support independent journalism in Turkey
Global campaign launches with call to subscribe to secular daily Cumhuriyet
A coalition of freedom of expression organizations led by the International Press Institute (IPI) launched today the "I Subscribe" campaign for independent journalism in Turkey. The campaign encourages readers from around the world to subscribe to Turkey's few remaining independent newspapers as a gesture of support.
The campaign initially features the secular daily Cumhuriyet and will be later expanded to include other outlets with diverse backgrounds and editorial lines.
"Independent journalism in Turkey is fighting for its survival", IPI Executive Director Barbara Trionfi said. "Subscribing to an independent media outlet is a concrete way that people can help – regardless of where they are in the world."
The threat to independent journalism in Turkey is severe. An estimated 90 percent of the country's media are under government influence and more than 180 outlets have been forcibly closed since the July 2016 coup attempt. As of June 1, 2018, at least 153 journalists are in prison in Turkey with hundreds of others facing court proceedings.
Read more about the press freedom situation in Turkey
Newspapers that do not overtly support the government are starved of both public and private advertising revenue, with evidence suggesting that state officials pressure companies into pulling ads from independent media publications. Moreover, these media outlets face regular legal harassment that drains finances through fines, legal fees and trumped-up tax penalties.
Against this backdrop, reader subscriptions provide an essential source of independent financing to ensure that media outlets can continue to do their work.
Cumhuriyet, which was founded in 1924 and is one of Turkey's oldest newspapers, has been a top target of state repression. In April, 14 of its journalists and staff members – including its editor-in-chief and CEO – were sentenced to jail on baseless terrorism charges. Despite suffocating legal and financial pressure, the paper has staunchly maintained its critical, secular editorial line.
While the majority of its content is currently in Turkish, Cumhuriyet also produces limited daily content in English, with plans to greatly expand its English-language offering in the coming months, bringing its top-level analysis of Turkish affairs to the global public.
Why subscribe?
Caroline Stockford, Turkey Advocacy Coordinator, International Press Institute (IPI):
"Despite aggressive attempts to silence them, Turkey's remaining independent media outlets, including Cumhuriyet, continue to demonstrate incredible strength and dedication to providing the public with critical news and information. Right now, they need financial support and to feel the solidarity of colleagues and well-wishers from around the world."
Carles Torner, Executive Director of PEN International:
"The Turkish authorities' clampdown on dissenting voices threatens the population's fundamental human rights to express opinions and to share and receive information. The "I Subscribe" campaign is a concrete way to stand up for independent journalism in Turkey."
 Rebecca Harms, MEP:
«Today, Cumhuriyet is not only the oldest newspaper but it is one of the few remaining independent media in Turkey. Even though they are under immense pressure and many suffered from imprisonment and face trial based on fabricated accusations, Cumhuriyet's courageous men and women continue to fight for press freedom and work hard each day to publish a quality newspaper. I am happy that my subscription can help finance Cumhuriyet's brave work as they are losing sponsors and advertising partners. I hope that we can convince many of you to subscribe for Cumhuriyet. It serves a free press, the freedom of thought. It is a subscription for freedom and democracy».
William Nygaard, President, Norwegian PEN:
"Now also published with a degree of English content, Cumhuriyet will be a courageous and open international voice on a Turkish judicial system in decline. Cumhuriyet will reach numerous new readers and will show the world how the Turkish regime, in its strive for power, is increasing the oppression of its citizens. It gives hope. We support the future and necessity of free journalism in Turkey, and this campaign will promote it."
Katie Morris, Head of Europe and Central Asia, ARTICLE 19:
"The pressure on independent media and journalists in Turkey is extraordinary. The 'I Subscribe' campaign allows anyone to practically and directly support independent journalists. This both protects the right to free expression and provides readers in Turkey access to information and diverse views. The campaign is one way we can all show practical solidarity."
Kati Piri, MEP:
«In the last years, media censorship in Turkey has spread like wildfire. The crackdown on anti-government press has made journalism a risky enterprise and has turned the country into the world's largest jailer of journalists. As no democracy can thrive without the freedom of press, I wholeheartedly support the 'I Subscribe' campaign for independent journalism in Turkey.»
Nora Wehofsits, Advocacy Officer, ECPMF:
"To take part in 'I Subscribe' means not only showing solidarity but also offering concrete support to keep the few critical voices and independent media in Turkey alive. It mobilises each and every person to send a sign and to spring into action to bail out media pluralism."
Antonella Napoli, Executive Board member, Articolo 21:
«In Turkey it's never been so difficult to defend freedom of the press and democracy. Turkey is the largest prison in the world for journalists with 160 colleagues imprisoned. This can't leave us indifferent. We are all called to make our contribution with the total support of our colleagues who continue to defend the right to freedom of expression and who have not even bent under the pressure of justice. We are proud to be close to them".
Sally Baker, Director, Wales PEN Cymru:
"An independent media is of great importance in every country. Wales PEN Cymru are proud to support the voices of independent journalists in Turkey whose vital role it is to inform the public and therefore engender well grounded, democratic debate."
Ralf Nestmeyer, vice president, German PEN:
"Freedom of the word is one of the foundations of every free society not only in Europe but worldwide. Against this background, the independent media and journalists in Turkey deserve all the support and solidarity imaginable. Please help ensure that the present Turkish regime does not succeed in permanently suppressing the right to free expression! Support the 'I Subscribe' campaign."
Marietje Schaake, MEP:
"Press freedom has been restricted by the Turkish government in a systematic manner, which has a chilling effect on free speech and independent journalism. We need to show our support for the bravery of journalists and editors working at the remaining independent media outlets. That's why this campaign is important."